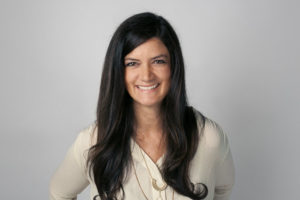 I'm most proud of defying norms by becoming a female/creative/agency President/servicing multiple global clients/ while raising two awesome kids.
Tell us about yourself and your current role.
After spending a half-life in brand strategy, retail activation and integrated marketing, I noticed a growing desire for audiences to know a brand to a person, caring more about what they stand for than what they sell. I launched New Honor Society in 2013 in order to help brands create greater engagement and advocacy by behaving more like "people." As President and Chief Creative Officer, I've partnered with Logitech's CEO to infuse more humanity into their brand and products, worked with PayPal cofounder Max Levchin to establish a brand DNA for his new financial startup, Affirm, launched Nestlé Ice Cream brands' digital presence and social channels, and changed the global conversation around safe sex with the launch of the FC2, the first FDA-approved female condom.
What is the culture like at your agency?
Because we are in the business of creativity, culture is as important as experience and skill in delivering the best possible work. That's because creativity comes from a personal place, so it's critical that everyone brings their whole selves to work each day. In order to accomplish that, we've created a culture made up of "Comfort + Tension." Comfort in being ourselves, but enough tension to push people past their comfort zone into breakthrough work.
Comfort comes from two areas: 1. The physical space. When you walk into our offices, you immediately feel at home. Soft couches, a pool table, a friendly receptionist who makes everyone feel welcome. All anchored by a worn-in bar that feels like the kind of neighborhood joint where everybody knows your name. 2. The people. We are welcome to bring our dogs, our kids and our baggage. We know each other beyond our skills and talents. And we are as much friends as we are coworkers. That creates an atmosphere of trust, which is so critical to meeting our clients' business objectives. No one is afraid to speak up, to throw out a "stupid" idea, to take a risk, or to fail. And we are all expected to wear many hats, to pitch in even if it's "not my job." Because it is.
Tension comes from a standard of excellence and entrepreneurialism that is more commonly found in a start-up than an agency. We hire only best-in-class people for each role, and expect them to not just perform a task, but uncover new opportunities that haven't been identified. Asking smart questions is as important as having the answers, and being resourceful enough to find those answers autonomously is greatly valued. And because our industry is deadline driven, we expect everyone to get the work done on time. Those late night and weekend hours can be stressful, but thanks to the "comfort" side of our culture, we work together, respectfully, toward the same goal.
How does that culture mesh with the juggling act that is being a working mother?
We provide a generous amount flexibility, because leadership understands firsthand the demands of parenthood, and knows that the best work comes from feeling valued as a whole person, not just as an employee. In exchange for that flexibility, our employees go above and beyond to fulfill their responsibilities with their teams and clients.
In what ways has being a mother changed how you approach certain aspects of your job?
When you become a mom, a couple of huge shifts happen in your mentality. First, you have this sudden and jarring realization of your own mortality. Second, you start to think about the world that awaits your children or what role you can play in affecting it. So when I became a mom I had this innate desire for my work to have purpose and meaning, to make an impact on the world rather than being driven by my own career ambitions.
What would you say are some of the most rewarding aspects of being a working mother?
Being able to take all of my experiences – failures and successes – and use them to help my kids navigate the world around them. Nothing is more rewarding than helping my kids through emotional turmoil or a stressful situation so that they can come out on the other side stronger than before. It's not about fixing things for them; it's about helping them understand how things happen or why people behave the way they do, and teach them how to solve their problems themselves.
What are the biggest challenges that you've dealt with?
The first big challenge I faced as a mom was traveling extensively when my kids were still breastfeeding. I still have flashbacks of pumping in client bathrooms, dumping milk in airports and making excuses to leave important meetings. Now that my kids are teenagers, the biggest challenge is struggling to reserve an adequate level of mental and emotional energy for them after a long day at work.
What steps do you take to ensure you achieve a healthy work-life balance?
I have trouble with the term work-life balance, because the two are rarely in balance. Sometimes work takes precedence and I have to miss a school performance. Sometimes family takes center stage and I'm unable to travel for a client meeting. I've been hearing a new term emerge which I find to be much more fitting: work-life harmony. Harmony is about the ability for two or more things to coexist, even when they aren't in balance. How do I achieve this harmony? I've learned to multitask like nobody's business, and to make decisions quickly. Being extremely productive and efficient with every hour of my day means I can leave my work behind at the end of the day. Most of the time.
What professional achievement are you most proud of? Tell us a bit about it.
I'm most proud of defying norms by becoming a female/creative/agency President/servicing multiple global clients/ while raising two awesome kids. Not because of what it means to me, but what it can mean to so many others.
Where do you see the possibility for change for future working parents?
We are still behind most countries when it comes to benefits for working parents, but I'm seeing a lot of movement in the right direction. Maternity and paternity leaves are being extended, foster and adoption leave is becoming the norm, there are more accommodations for people actively pursuing fertility. At the same time, technology will continue to make it easier to work remotely without sacrificing productivity.
Who are some working mothers that you admire/look up to?
It may seem like a cliché answer, but that's because it's indisputable: Michelle Obama. If you want to know why, read "Becoming."
What is your favorite Mother's Day campaign of all time?
They weren't created specifically for Mother's Day, but P&G created two of the most moving and memorable mom-centered spots of all time: "Thank you, Mom" and "The Talk."