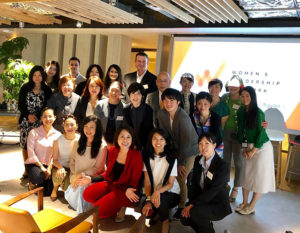 Over 130 employees, across 10 IPG agencies, 30% men, two mothers with babies, attended the launch event of the WLN Japan Chapter on June 15th at McCann Worldgroup Japan's newly renovated office, connecting all IPG companies in Japan for the first time.

The event kicked off with opening remarks from Charles Cadell, CEO of McCann Worldgroup Japan, APAC. Cadell introduced IPG's Diversity + Inclusion mission and shared a video message from Michael Roth, Chairman and CEO of IPG. Ji Watson, Co-chair of IPG WLN Japan and EVP, CFO of McCann Worldgroup APAC, provided an introduction to the IPG Women's Leadership Network (WLN). Hiroshi Namiki, Chairman of Momentum/MWG expressed his support to WLN Japan and introduced the WLN Japan organization.
Jun Matsumoto, McCann Planning Director, shared statistics on the current gender balance of IPG in Japan, the Japanese industry and the UK. The data showed that IPG Japan is better balanced than the Japanese industry overall, but still has a way to go vs. the UK, especially in senior roles.
WLN Japan Co-Chair and McCann Creative Director, Satoko Takada, introduced WLN Japan's five Committees and the key activities – Mentoring/Reverse Mentoring, Boss Internship, Gender-Flip Workshop, Executive Internship — each committee will be focusing on.
Keynote presenter, Ms. Keiko Kojima, essayist and visiting researcher, Interfaculty Initiative in Information Studies, The University of Tokyo, shared her experience working as a TV announcer at one of the major key stations in Japan after graduating university. She shared the expectations of a female TV announcer and that it was not just women who go through the difficulty of fighting traditional values.
This was followed by a panel discussion with Ms. Tsukiko Tsukahara, President of Kaleidist and mother of 3 children, who started her career as a civil servant before moving on to a US consulting firm, and Mr. Daisuke Furuta, Founding Editor of Buzz Feed Japan who also began his career at a traditional national newspaper.
Key takeaways from the discussion:
It isn't just about men vs. women, it is also important to realize the unconscious bias that we have within us.
For women to strive in Japan, the support of men is necessary, but women also need to remove the glass ceiling within themselves.
When praising women do not say, "Because you are a woman . . ." simply praise them for what they have done.
Create an environment that enables women to speak up, to support them to be leaders.
WLN Japan's goal is to create a comfortable, inclusive work environment where no glass ceiling exists. To advance, retain and attract the best and brightest talent and thereby win and retain top client assignments and position IPG and our agencies for women employees (current and prospective) as "best place to work" and contribute to the agency business results.