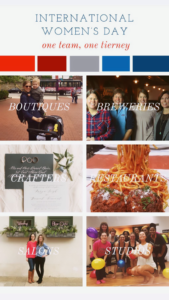 For its first event as a part of the Women's Leadership Network, Tierney hosted multiple activities within its offices for International Women's Day.
To raise visibility internally and with the agency's social media followers, Tierney executed the following:
Inspired the agency through surround-sound awareness. In addition to a rotating slide-show featuring powerful stats and quotes about women in leadership, employees wrote blog posts that were shared through the agency intranet discussing the 3 Percent Conference and a personal story about strength and overcoming adversity.
Encouraged employees to write inspirational quotes or meaningful pieces of advice they have received from women. More than 20 people shared their inspirational pieces. A few of our favorites:
"I do believe that if you want to change the world, you have to be responsible for it." Reese Witherspoon
"Speak up for what you deserve. I promise you won't regret it." Brittany Packnett
Though she be but little, she is FIERCE.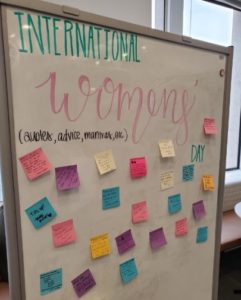 Amplified their efforts on social media. Highlighting their commitment to women leadership in Philadelphia, Tierney highlighted some of its favorite local businesses owned by women through an Instagram story. More than 450 users saw a part of the story, which was accompanied by an image of nearly half of the agency who wore white in celebration of the day that received more than 100 likes.
We are excited about the future of what is to come for the Women's Leadership Network in Philadelphia!