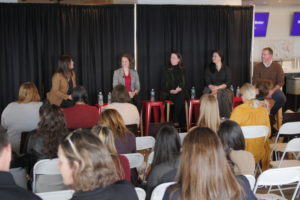 In keeping with this year's International Women's Day theme of Balance for Better, Octagon hosted a panel gathering women (and a guy!) at the forefront of their industries to examine the impact of women's representation in sports and entertainment.
Moderated by Octagon SVP, Chrissy Franklin, panelists included:
Andrea Kayal, CMO, Upserve
Liz DiLullo Brown, SVP/CMO, Little League Baseball
Tara Mulcahy, VP, Global Partnerships, NBA
Arnold Wright, EVP, Octagon
The conversation centered around how the sports landscape has changed, how each panelist has been affected by privilege and the lack of women in their respective fields, and what each of them does to guide their organizations to balance for better. We're looking forward to implementing many of these actionable insights and are thankful to each of the panelists for dedicating their time to such a dynamic issue.