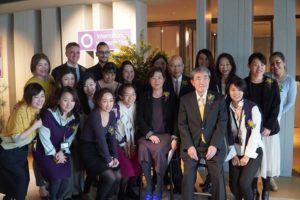 On March 5th, WLN Japan hosted an International Women's Day Breakfast session. Over 130 staff attended across IPG agencies, with some selected clients and press. The purpose of the session was to update/reinforce awareness amongst our staff of our IPG WLN Japan activities, and secondly (but not to the least) to publicly announce the launch of our "TRUTH ABOUT GENDER IN JAPAN – Women and Men at Work" studies supported by WLN, which was amazingly conducted and lead by McCann Tokyo's planning director Jun Matsumoto-san and the team consisting of members with diverse background incl a senior male planner from McCann Health.
Additionally, WLN Japan organized an inspiring panel discussion with Akira Matsumoto-san and Kaori Fujiwara-san, two well-known figures who talked about how they succeeded in increasing its cereal brand sales from 3 billion to a whopping 30 billion JPY in 5 years, and how they achieved this by setting in female management, along with their views on gender equality from a business management perspective.
On March 8th, WLN Japan hosted an IWD Awareness Event. The "One Photo One Coffee" event offered coffee and sweets for those who showed support to IWD and WLN. Over 110 ppl participated including senior male management leads.