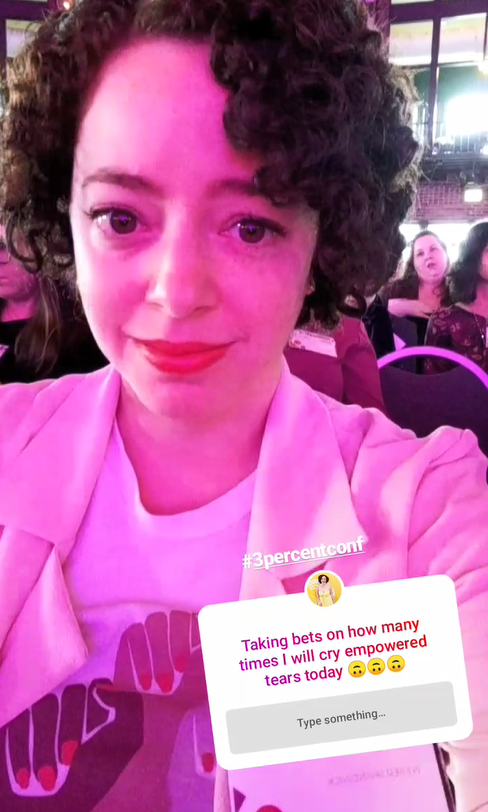 I'm the type of person who cries at movies. Partly it's because I love the catharsis of a good sob – who doesn't need a good cry every now and again? But beyond that, I believe that both in life and in work, the stories that give us that tear-welling, choked-up feeling do so because they tap into something deeply human, emotionally relatable, or profoundly true.
So while this year's 3% Conference was jam-packed with memorable moments, the ones I'm going to share with you are the ones that made me cry.
The first was this video, which brings into sharp relief the challenges people of color face when they are expected to conduct "business as usual" amid an unrelenting cascade of racist events unfolding in both the news and in their daily experience. Watching this video was one of several moments throughout the conference when I found myself face-to-face with my own privilege, which challenged me to use my tears as motivation to change my day-to-day behavior and the behavior of my team. The fact that this played before a panel on the IPG-sponsored Leadership Track that featured our own Chief Diversity and Inclusion Officer, Heide Gardner signals to me that practicing this type of empathy is not just a suggestion but also an expectation for our organization.
Next was this Q+A session after a fabulous panel called Creativity at Scale, where both the moderator and panelists were all creative leaders and women of color. Before asking her question, audience member Lauren (herself a woman of color), took a moment to express how meaningful it was, having never met a black female creative lead, to see brown and black women filling the stage. In a world full of all-white and all-male panels, Lauren's acknowledgment was a poignant reminder of how important it is to ensure that people of color – in our industry and beyond – have the visibility and platform they deserve.
Tears flowed again when Freelance Creative Director Lisa Leone read a letter of thanks to Caroline Dettman, Chief Creative & Community Officer at Golin and founder of the Have Her Back initiative that supports and welcomes back female creative leaders who have been forced out of the industry. After Leone spoke truth to power by publishing an account of her experiences with harassment in the ad industry, she was essentially blacklisted, and Dettman stepped up to support her triumphant return. I'm so proud that this shining example of women lifting each other up is connected to our IPG family.
Then came the biggest ugly cry of all. During a freeform audience Q+A, a brave woman stood up and asked the crowd what to do, legally, when you're being silenced at work after sexual harassment. After a few people shared suggestions, like the Time's Up legal fund, she took back the floor. Her voice wavered as she shared that, as a Canadian citizen, Time's Up couldn't help her. My heart broke for this woman. She was literally pleading for help in a huge crowd full of people. There's a glimmer of hope that through social group Girlsday, Time's Up may be able to fundraise and help her, but the fact harassment is so rampant in our industry shakes me to my core. How can we be expected to DO great work if we can't even feel SAFE at work?
Advertising legend and feminist provocateur Cindy Gallop expertly diagnosed the state of the world we work in with her closing keynote speech: "The biggest issue facing every industry today is not diversity. It's sexual harassment, which keeps out of power, influence and leadership the female leaders who would make equality, diversity and inclusion happen."
In every single one of these moments, I shed tears for the obstacles women in our industry face – the steep and often multiple mountains women must climb every day before they can even get to the work they love to do. So in addition to helping you have a good cry, my hope is that these stories will inspire a rallying cry, challenging our industry to do more and do better.