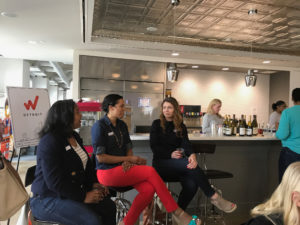 WLN Detroit held a relaunch event at Commonwealth//McCann last week.
The meeting was led by Deanna Christy, Account Manager, Social at Campbell Ewald, and Rachel Schusterbauer, Associate Creative Director, Commonwealth//McCann, as they take on local leadership roles for WLN Detroit.
The meeting began with an introduction to the WLN, detailing the mission of the group, to over 45 enthusiastic attendees. The main goal was to learn what the attendees would like to get from the group this year. Everyone wrote down their ideas and put them up on the wall, looking for any obvious themes or groupings and then opened up the floor to a discussion. The relaunch event was well-received and everyone is excited to get started!