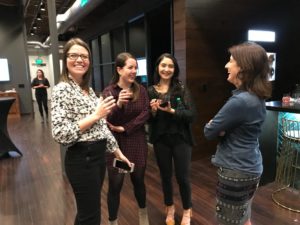 Last week, the Atlanta chapter had its final event of the year, "Finding Balance Between Success and Philanthropy." Guest speaker Jennifer Levine Hartz from Corporate Hartz LLC shared the expertise and wisdom she's gained in this area throughout her impressive career in strategic CSR and family philanthropy.
When it comes to philanthropy, Jennifer recommended working with an organization that is truly symbiotic with your interests and assets. Also think about what skills you're looking to gain or strengthen, as well as the logistical details some people don't stop to think about. It's crucial that the location and timing of your philanthropic efforts align with your busy schedule.
Some of Jennifer's general career trips included: it's OK to be imperfect; the importance of self-advocacy; it's OK to go off your plan if it's going in the right direction; you don't know how good a decision can be sometimes until you make it.