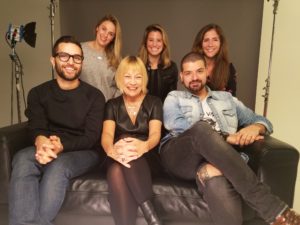 Women, on average, are paid 79 cents to every dollar that their male co-workers make. And every Equal Pay Day — which symbolizes how far into the year women must work to earn what men earned in the previous year — we ask ourselves: how do you close the gender pay gap?
The answer might lie in an insightful study by the Cass Business School in London, the University of Warwick in the U.K., and the University of Wisconsin, which revealed that men were 25% more likely to receive a raise after asking.
Based on this insight, a collective of creatives from R/GA, The Muse, Ladies Get Paid, Reply.ai and PayScale teamed up to launch an innovative tool to help women close the gender pay gap by honing in on their bargaining skills with one of the world's fiercest female leaders and equal pay advocates: Cindy Gallop.
How? By turning Cindy into the bossiest Facebook Messenger chatbot out there. After all, practicing in the mirror is one thing, but practicing on one of advertising's toughest critics is another thing entirely. Get past Cindy Gallop and your boss will be a breeze.
The tool harnesses the power of technology to give women the data and confidence they need to successfully ask for raise, while raising awareness and inspiring action. By creating a private conversation between two women backed by data and supported with sass, @AskCindyGallop gets us one step closer to closing the gender pay gap.
The "Ask Cindy Gallop" Facebook Messenger chatbot launched on International Equal Pay Day and, in addition to the chatbot on Facebook, also includes a video and social activation strategy across of all the brand partner social media channels.
Check out the bot here: https://www.messenger.com/t/AskCindyGallop/.